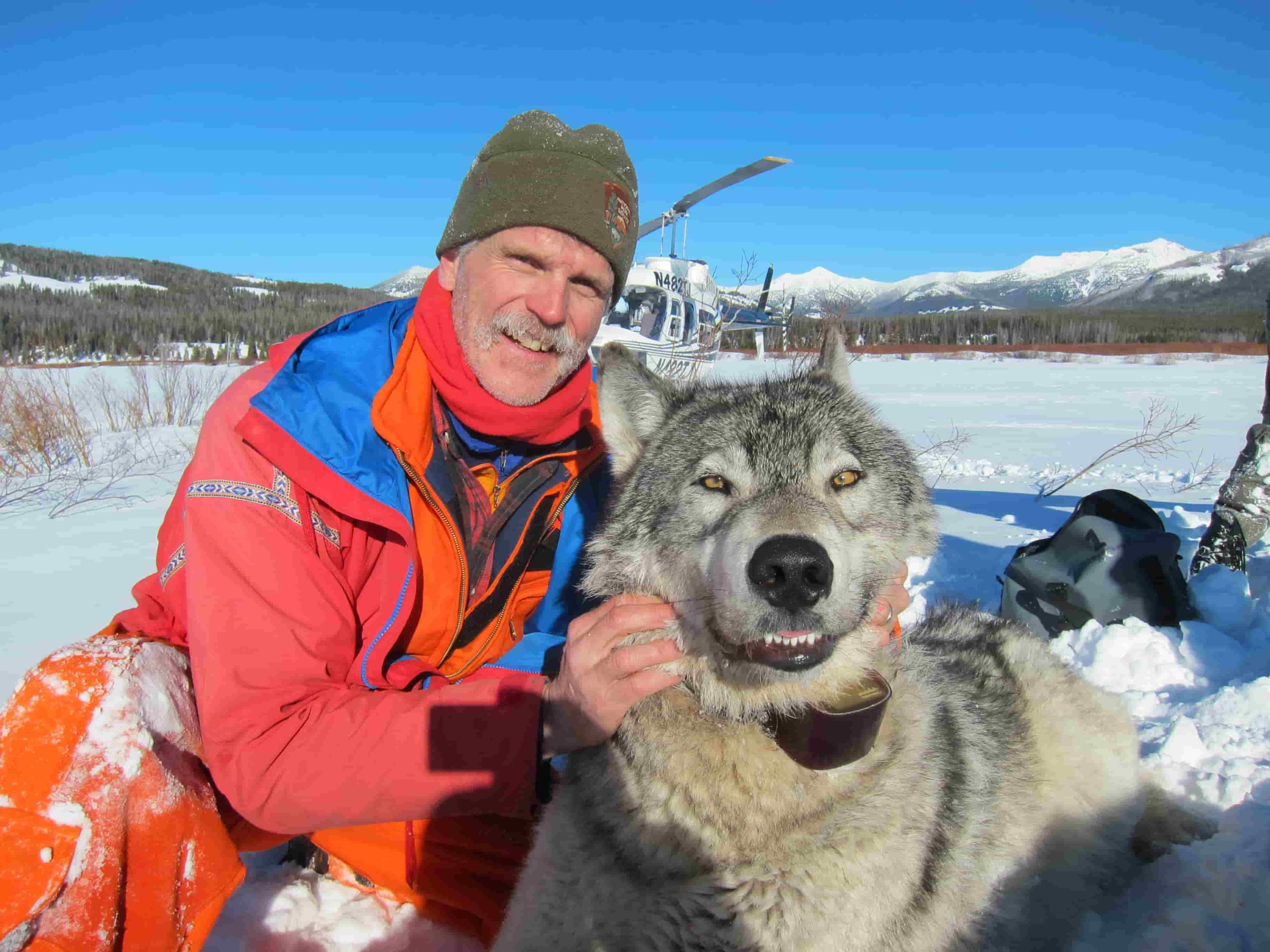 Douglas W. Smith
Senior Wildlife Biologist, Yellowstone National Park
Project Leader for Yellowstone Wolf Project
The Craighead Conservation Award was established in 2003 to honor the legacy of Frank and John Craighead. Recipients of this award have significantly impacted wildlife conservation in the GYE region and demonstrated the dedicated spirit of the Craighead brothers through years of service in wildlife research, management, community involvement, and/or policy.
Right out of high school, Doug worked with Erich Klinghammer at Wolf Park, Indiana and then went on to work on a summer wolf-moose project on Isle Royale with Rolf Peterson and on wolf projects in Northern Minnesota with Dave Mech. Doug earned a MS from Michigan Tech and a PhD at University of Nevada, Reno.  
He started as a biologist for the wolf restoration program in Yellowstone in 1994, under Mike Phillips, before later taking over as program leader.  From his early days in Yellowstone, Doug was committed to learning as much as possible about wolves and the Greater Yellowstone Ecosystem.  Norm Bishop (retired National Park Service ranger and public interpreter, reviewer and compiler of Wolves for Yellowstone? and the 1994 Environmental Impact Statement for wolf reintroduction in Yellowstone) tells us "[Doug] built an extensive network of collaborators, consultants, and volunteers that have contributed to a massive body of science on the impact of reintroduced predators on ecosystems. He has authored or co-authored 25 annual reports, 85 scientific publications, 3 books, 22 book chapters, 37 popular articles, and 27 technical reports." In 2020, Doug Smith, Daniel Stahler, and Daniel MacNulty produced Yellowstone Wolves – Science and Discovery in the World's First National Park (University of Chicago Press) with contributions from 74 authors.
Doug exemplifies the Craighead brothers legacy with his efforts to educate through film, books, and talks as well as through scientific research. His commitment to taking the time to give talks to small groups of citizens, to engage numerous volunteers, and to mentor students is as impressive as his extensive research and professional publications.  
Dave Mech (US Geological Survey, Univ. of Minnesota, and International Wolf Center Founder) has said, "Doug not only excelled in leading the Yellowstone aspect of the wolf reintroduction since the late 1990s after Mike Phillips left, but just as importantly he has maintained the world's most extensive and intensive wolf research program ever since." Rolf Peterson (Michigan Tech and Isle Royale Wolf-Moose Project Leader) credits Smith for outstanding contributions to science and collaborative knowledge building: "What we've learned about wolves in the Yellowstone ecosystem since 1995 is phenomenal, and it might not have happened had it not been for Doug's dogged determination and ability to enlist collaborators from around the world. It was not at all clear, in 1995, that ecological science would see major gains.  Doug helped spawn a scientific renaissance that has been truly remarkable, even by Yellowstone's standards."
Photo credits: Doug Smith
Past recipients include:
2003: Steve Kilpatrick
2004: Mike Whitfield
2005: Bruce Smith
2006: Franz Camenzind
2014: Debra Patla and Susan Palta
2017: Mark Elbroch
2019: P.J. White